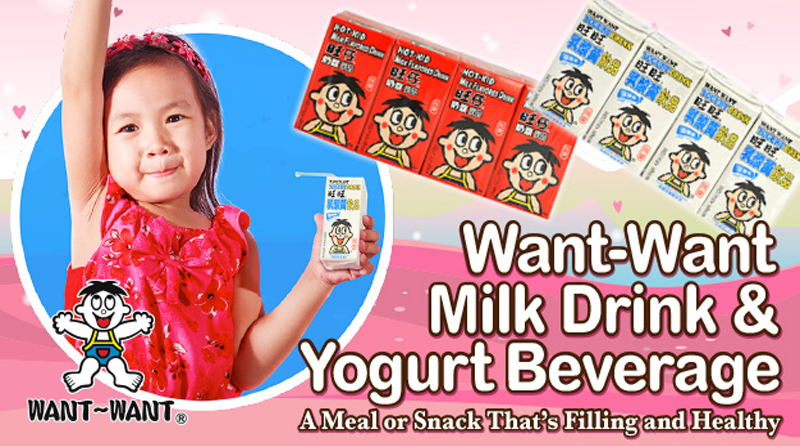 AUG 2018
Star Product's Demand
Exceeds Supply
Hot Selling Item
Do you still remember the most popular commercial from childhood? "I want to be strong, I want to be strong, WantWant", the WantWant flavored milk drink is the latest craze in the China for over a decade. Annual sale is up to 6.2 billion bottles. WantWant has brought us a new size of 125 ml mini tetra pak. It is suitable for children and students to carry. At the same time, WantWant also bring us "WantWant yogurt beverage" which has the same high quality as other WantWant products. It is another star product along with WantWant milk drinks.

Wantwant milk drink is a nutritious beverage that is good for growing children. It can enhance appetite, aid for better sleep and relieves fatigue. The newly introduced 125ml tetra pak has greater advantages than the original size. The smaller size can easily be finished by younger kids once it is opened, which helps to maintain the drink's best flavor. Because it is not a metal can it does not need CRV, making this item a price advantage. Plus, the item sells as a 4 pack, which is better profit than selling one by one. There are 9 sets in a box, which can all be stocked on the shelf, making it convenient for markets.

Today, the beverage market has changed. People are looking for healthy foods and beverages than ever before. The yogurt drink has become the one to choose. WantWant yogurt beverage was made from natural New Zealand milk powder. It has high nutrient. The taste is very smooth, with the sweet and sour milk flavor it has become the flavor beverage for all ages, children and elders. The yogurt also contains oligo that is good for digestion. While you are enjoying the sweetness you can keep healthy at the same time. Same as the Milk drink, the 125ml tetra pak has 8 months shelf life and is very convenient for stocking. The WantWant yogurt tastes heavy and creamy, different from other yogurt drinks on the market. Making the product more unique and special. Believe it or not, it will become the next hot selling item after WantWant milk drink.

The cartoon character WantZai has always been the first image of Want Want Brand. The smiling face not only brings happiness to children; it also represents the best quality of children's snacks and beverages. The tasty milk beverage has many different vitamins and minerals that is good for health. The smaller pack is loved by children, regardless if you want to stock for family use or to gift to friends and relatives, the Want Want milk series is always the best choice. These two products will be hot selling items in this category, so please stock early to avoid shortage in supply.