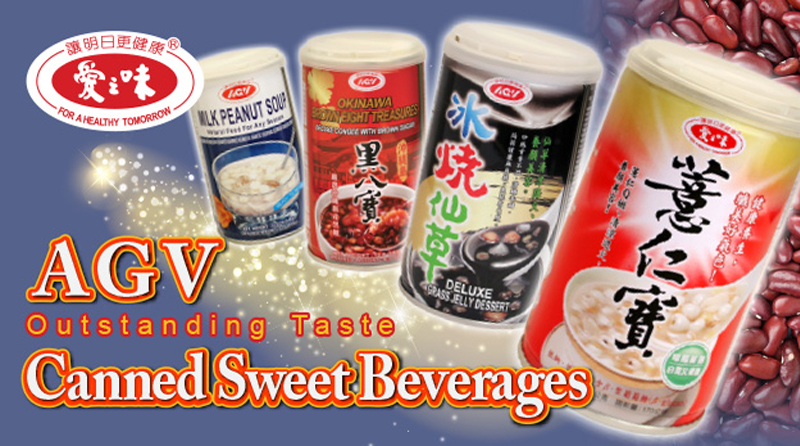 OCTOBER 2018
AGV Five Star Dessert
Classical Sweetness

Adlay Oatmeal Deluxe, Enhancing Beauty – Health beauty's tender barley and oat fiber mixed with mung bean, plus soft peanuts and Konjac. It is low in fat and sodium. Also containing B polydextrose (soluble fiber), can help with digestion. The AGV Adlay oatmeal is a new delicious sweet for females.

8 Treasures, increase your strength - using 8 different kinds of valuable grain(black beans, purple rice, oats, barley, red bean, mung bean, longan, sesame), high nutrition, plus Okinawa brown sugar, without any additives , sweet molasses making the taste mellow, awesome, but not greasy!

Milk Peanut Soup, Good Things Happen – Using technology to pick the biggest peanuts mixed with rich milk, the soft and rich peanut tastes great. Whether you're an elderly or child, it is good for both breakfast and night snack.

Pearls, Very Chewy – A Jar with 200 pearls inside filling with natural carrot juice, cocoa, lycopene, etc. makes it colorful and attractive.

Ten Huba, Very Satisfied - A jar has 12 kinds of natural food, rich and nutritious. Enjoying it chilled is refreshing during Summer, or have it hot to nourish your body. It has always been my best snack since I was a child and the best choice for a nighttime snack.

Iced Grass Jelly, Tasting the Trend– An iced grass jelly dessert that you can enjoy during summer. Soft grass jelly, chewy Konjac, with mung bean and lotus nuts tastes good and makes you feel fresh and release hurting in the summer. Any time, any place easy to complete your sweet desire.

Red Bean Jelly, Tasty – Those who like red bean do not miss this great dessert! Not only does it taste delicious and nutritious, the β-Carotene konjac also matches the healthy habits of today.