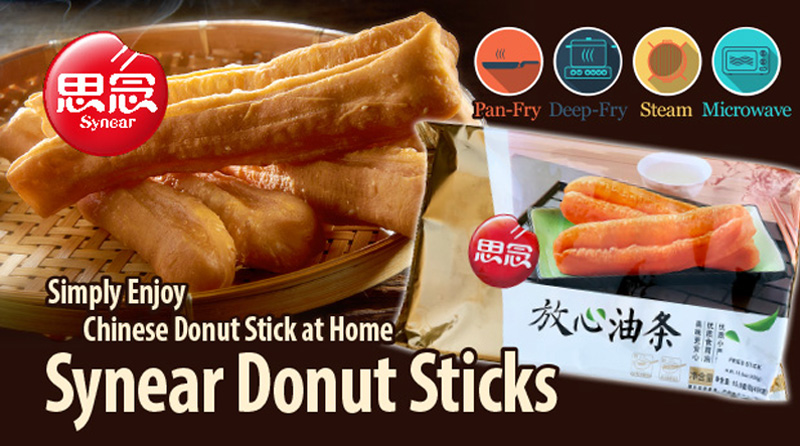 Fry, Deep Fry, Steam or Microwave,

Simply Enjoy Chinese Donuts at

Home The Best Chinese Donut

for Family

Chinese Donut is an old Han style made from flour, long shape with the inside empty, deep-fried until it is crispy and chewy. Fresh out of the fryer, smelling very good, eaten with soymilk and biscuit making it a great combination of texture and taste. However, in order to make the Chinese Donut taste better and more crispy, some unscrupulous vendors will add strontium and alkali, both elements are harmful to the human body if consumed over a long period of time. However, the new name FangXin Chinese Donuts which has no other additives has become a top brand for purchasing. The Synear FangXin Chinese Donuts, gold in color, tastes delicious and crispy and is made with high quality flour and first class oil. The frozen donuts are easily made at home, simply just heat up for a few minutes, and you are ready to enjoy the traditional breakfast at home.


Synear FangXin Chinese Donuts uses advanced technique to fry the donut under low temperatures, and absolutely no added leavening agent, with a delicious and great taste thatís trustable. It is very simple to heat up the donuts at home. Fry: to defrost until inside softens, fry with less oil or no oil for 4 minutes until the surface becomes golden to serve. Deep fry: defrost, put in deep fryer for 90 seconds until surface becomes golden, drain out oil and itís ready to serve. Microwave: defrost until inside softens, wrap in microwaveable wrap and heat up for 2 minutes. In addition to that, to cook with a steamer, steam for 3 to 5 minutes, let cool and itís ready to eat. The Synear FangXin Chinese Donuts has absolutely no other additives, and is definitely the best snack for your loving family. It is the greatest product you wonít want to miss in filling your freezer.