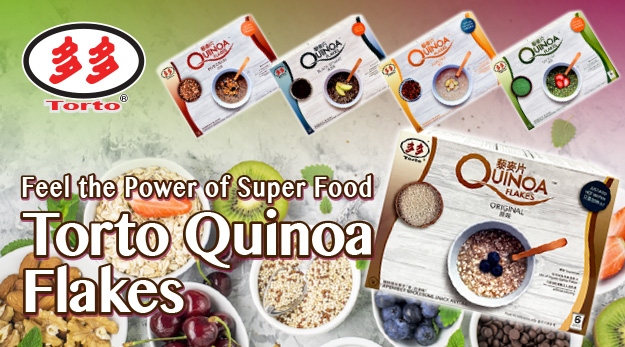 Feel the Power of

Torto Quinoa Flakes
In recent years, there is an ancient Inca grain, quinoa known as a super food that is grown in South America's Andes. Quinoa is gluten-free and contains rich protein and nine amino acids for the human body. It has higher dietary fiber, magnesium, phosphorus, potassium, calcium, iron, copper, and zinc to help people diet, it also contains antioxidant, and lowers blood sugar. Torto quinoa flakes are made with Peruvian organic quinoa, Australian high-quality oats, plus Torto's special nut formula, providing the balance of nutrition for the human body. It is the best meal to have nowadays.

The Torto quinoa flakes series is organic and a non-genetically modified food product from Hong Kong. With high-quality vegetable protein it can aid people in being healthier to live longer. Moreover, with more vegetable protein consumption it helps muscle tissue development and enhances fat burning to achieve the best result for weight loss. No need to worry about gaining more weight if we consume more. Torto quinoa flakes series has five flavors; original, five-grain, black sesame, almond and matcha. Those flavors not only pair well with quinoa, but provides a health consciousness and aroma to the food. Each flavor has different nutrients, but sugar and fat are very low. The calories and sugar are very suitable for weight loss compared to eating rice or regular meals. Quinoa is very close to cereal, but not thick like milk and wheat. When consumed with nuts or dried fruits the taste is more abundant.

The philosophy is to eat healthy for natural health. Hong Kong's classic brand Torto uses high quality natural grains, seeds and vegetable powder, under numerous quality testing, with selected superior ingredients to produce good taste, nutrition, balance and healthy foods. Such a healthy food product is suitable for the busy city people that wish to pursue a healthier life. Torto organic quinoa flakes series has 6 bags per box, each pack's weight is 28g. Simply just adding 160 ml of hot water and stirring for 2 minutes, it is ready to eat. Torto quinoa flakes has no preservatives or artificial colors, so it is very safe for people to try. Such wonderful products can be consumed as breakfast or a light meal, highly recommended to everyone.