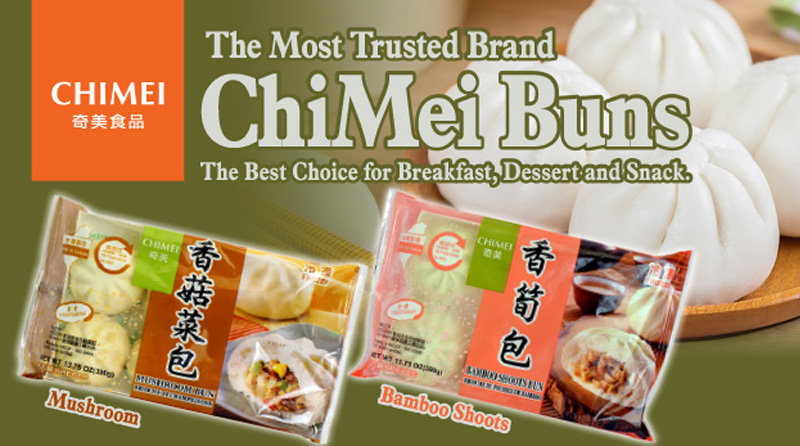 ChiMei Buns

by The Most Trusted Brand

The Best Choice for Breakfast,

Dessert and Snack

What is your favorite breakfast; Chinese breakfast or Western-style breakfast? No matter which you choose, breakfast is the most important meal of the day, the sustenance of your day. The famous brand ChiMei, brings you buns rich in filling and soft exterior making it the best choice for breakfast. Simply just heat up, and the delicious ChiMei bun will satisfy your hunger.

The ChiMei bamboo shoots bun is delectable making your mouth water just by seeing it. The taste of bamboo shoots enriches your mouth once you try a bite, it will make you crave another bun to fulfill your hunger. Another famous ChiMei bun, is the mushroom bun that has great nutrition. Under the soft exterior, the interior is stuffed with mushrooms and vegetable. It is not only nutritious but also sweet and delicious, making it a breakfast favorite or snack for adults and children. ChiMei Foods has always insisted on best quality food to continue the enlightened value of traditional cuisine.

To cook ChiMei buns is very simple, just put the bun into the steamer for 8 to 10 minutes then you can enjoy this delicacy right away. An alternative is, defrost and spray a little water on top, cover in a microwaveable wrap and heat up for 2 minutes. Both these items offered contain no preservatives and is perfect for Vegetarian consumers. A great addition to your storeís frozen section with more selections for your consumers to choose from!