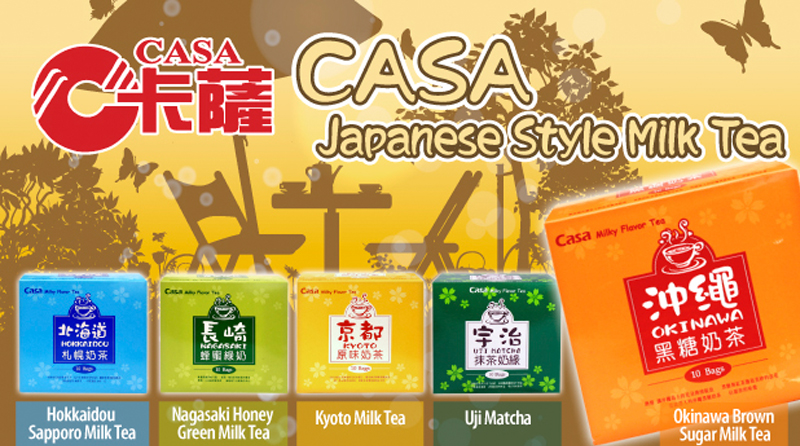 Casa Japanese Style

Milk Tea

Founded in 1989, Casa is a well-known instant coffee brand. In Spanish, "Case" means home. The company use "case" as name of the brand tells meaning and how it want to bring the love and joy to customer. To product the truth real flavor meets today people's quality of life. Case Japanese-style tea series is the leader in the market, has become one of popular daily drink. Case sees the demand and brings us the quality and convenience instant tea series. They are Okinawa Brown Sugar Milk Tea, Hokkaidou Sapporo Milk Tea, Nagasaki Honey Green Milk Tea, Kyoto Milk Tea and Uji Matcha, and provide variety taste to satisfy all customers. The instant style make easy for modern life style. Let people to enjoy a leisure moment and have a cup of great milk tea.

Tradition Cold Brew Tea Series has three favors: Roasted brown rice flavor, (using Taiwan brown rice and brewed with Japanese steam style, fragrant in roast brown rice). Jasmine Green tea flavor (featuringTaiwan fermented green tea with jasmine flowers, rich aroma and freshness). Cold brewage oolong tea (selected Taiwan's top oolong tea, mellow taste in the throat). Using cold water to brew tea reduces bitterness and keeps original taste. The unique three dimensional triangular tea bags makes brewing fast and easy. The cold brewage trend has gradually increased in the market. Tradition cold brew tea has beautiful packaging, special and smooth taste, along with the current trend it will sell great during the summer time. Please do not miss this great opportunity and to fill this wonderful product on your shelves.

Case milk tea uses the really black and green tea powder. The aroma is outstanding such like fresh brewing tea. One box contains twelve instant tea bags. You can easy to have it with hot or cold. For cold beverage, only need add a little hot water first, then put cold water with ice, stirring a little bit, the cold beverage is ready for server. More people are able to accept milk tea than coffee. Adults and kids all like it. Beautiful dessert with Case milk tea will inspire you a wonderful tea time. Bright colorful package make is outstanding appearing. Please be sure to stock this modern and fashion product on your shelf.