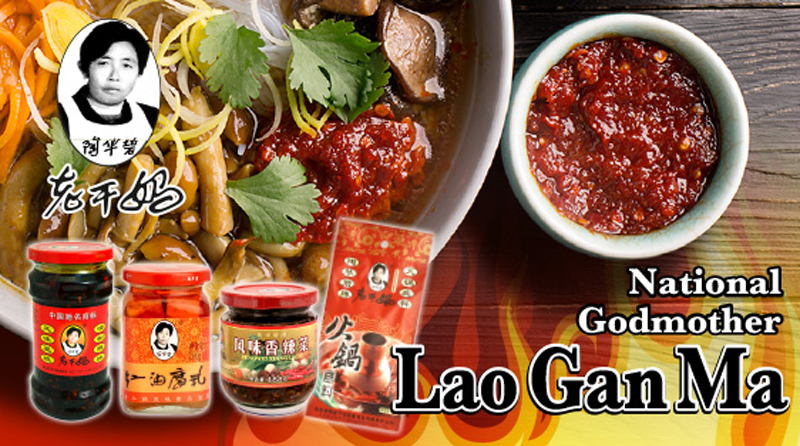 National Godmother Lao Gan Ma

While we talk about the food, to judge whether the food delicious or not is the seasoning not the cooking methods. Especially Chinese dish is emphasizing on how to use seasonings. The seasoning must be mentioned should be the spicy. Simply just adding some chili sauce into a plain dish, immediately the dish becomes tastier. Surely, everyone has their own favorite chili sauce. However, if you want to talk about chili sauce in the Chinese market, the Lao Gan Ma chili sauce should be the number one favored among of all.

Lao Gan Ma, this well-known brand nearly two decades time has rapidly expanded the products that sold in more than 30 countries, with over 1 million bottles produced daily, which speaks volumes of its acceptance with consumers. Lao Gan Ma, a brand that originated in China means "Old Godmother" in English translation, which it looks after everyone's appetite. All the Lao Gan Ma's products have certified SGS, ISO standards with no added preservatives. That is safer when we taste the delicious. Bottle cap all has logo. From the body you can find the colorful chili through the glass. Their product is so widely received that the product is often counterfeited, with Walong Marketing Inc. as their sole distributor in the USA, any of Lao Gan Ma products that does not come with our esteemed company's logo is counterfeited.

Lao Gan Ma chili sauce was made with Guizhou highland chili, to baking, saute and other multi-channel method, made of fragrant incense, spicy, crisp unique taste. Different from the other chili sauce, Lao Gan Ma Chili has unique crisp taste, because the chili has been fried into crisp chili flaky. Different from the other chili sauce Lao Gan Ma Chili sauce tastes moderate. You can smell the unique chili flavor without pungent spicy once you open. In addition, Lao Gan Ma chili sauce series are also very suitable mix with other dish as a seasoning. Simply just add a tea spoon of chili sauce on the vegetable or noodle, can make the original dish more tasty and delicious. Summer is near. Lao Gan Ma chili sauce can also be used as dipping sauce or sauce to stir with noodle or rice. With this sauce, it will raise appetizer special at the hot season. Therefore, be sure to stock your shelves with these wonderful lines of products for your customers to enjoy.