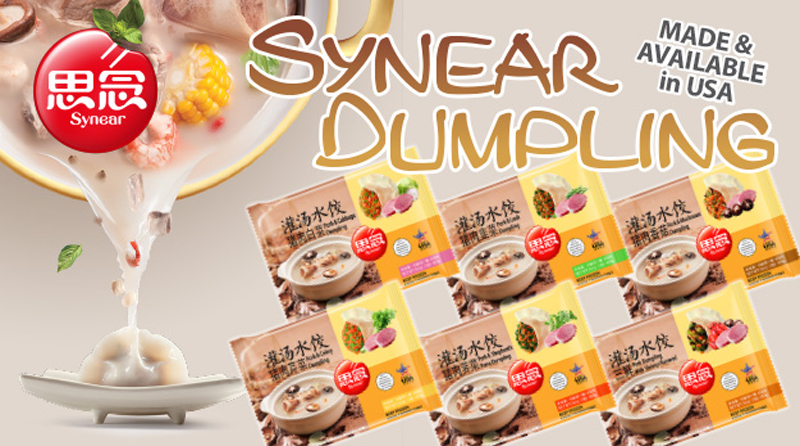 Synear Dumplings

Now Available

Original Synear Recipe: Made in the U.S.A
China's leading brand in frozen foods, Synear, now has a factory in the United States. Synear Foods' mission is always dedicated to developing the Chinese food culture. Within a few years of planning, Synear achieved the goal that brings the original Synear recipe into the United States. Synear brings us the real Chinese cuisine with no border or other restrictions. The new Synear factory is located in California loaded with the latest equipment and technologies to produce the exact same dumplings from China. The factory and production are also USDA inspected, such high level of industrial control is all to ensure that customers receive products of the best quality in the United States.

Juicy and Delicious Synear Dumplings
The name" Juicy Dumpling" was first introduced in the market by Synear, then all competitors followed suit. The juicy dumplings that were introduced to the US market were already mainstream products in China. Synear used the exactly recipe for the products in the United States. Synear not only enhanced the essence of the filling technique, but also opened a new chapter of juicy dumplings. As a leading brand, Synear is dedicated to providing nothing but the best quality of products to customers. The advance technique and precise procedure has Synear becoming the most reliable brand than other food companies.
A bite size dumpling, easy to intake one per bite. Synear innovated the
dumpling into a smaller size. It is exquisite in wrap, rich in juiciness and
stuffing in one bite, the feeling of a juicy flavorful mouthful makes it hard
to forget.

Thin wraps holding a mouthful of juicy flavors. The broth of Synear's Juicy Dumpling is made with bone and mushroom. The soup is rich, delicious and nutrition. Such wonderful juiciness mixed with the preferred filling makes for a perfect taste that you won't regret after giving it a try.
Juicy Dumpling is a Well Known Product in China, Easy to Sell in Asian-American Markets
Synear Foods entry into the U.S. market in 2008 received great feedback. The famous Jade Rice Ball has held a big amount of market share in the Rice Ball category. It shows the U.S market well receives the product of China name brand. Additionally, Synear is also the sponsor of the famous Chinese reality TV shows "Where Are We Going, Dad?". This program has been watched by hundreds of millions of families, and it also helped Synear successfully deliver quality image to every audience. With this new product launch, Walong has prepared market billboards and freezer stickers to help support stores for product displays. As the Lunar New Year draws near, the dumpling with a gold coin-like shape will be the most in demand holiday product. All 6 are beautifully packaged and will definitely be products of bestsellers in your store.