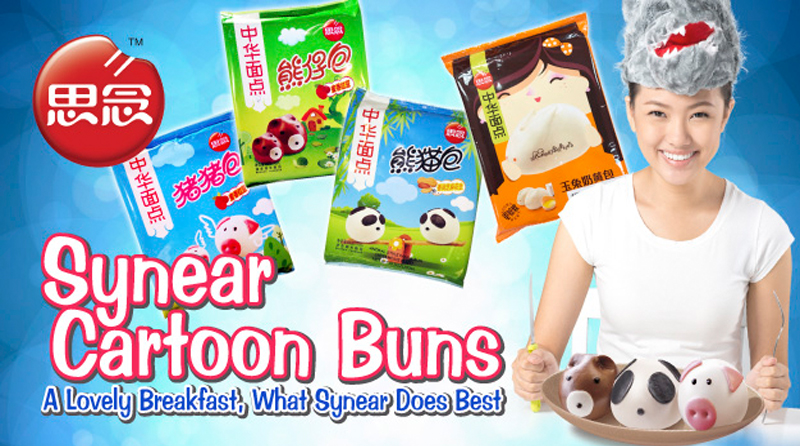 A Lovely Breakfast,

What Synear Does Best

Frozen food is increasingly becoming one of the main meals for city families. Before, frozen foods were preferred by consumers that wanted to try something new. However nowadays frozen food is almost becoming everyoneís favorite daily meal. During the course of this consumption, consumers have put the quality before the flavor for preference. Therefore, the assurance quality has become the most important element of frozen food today. The leading food company Synear has brought us the Chinese pasta series which emphasizes on the product quality as the most important factor. When it launched, it immediately received many good feedbacks. The cute look bringing out happiness has become the characteristics of Synearís cartoon buns.

As the piggy bun and bear bun has seized the entire Chinese market, Synear brings us two more animal style cartoon buns; custard rabbit bun and red bean hedgehog bun. The traditional 5 steps of bun making plus the selected quality flour makes it a good looking and delicious cartoon bun that canít be forgotten after taking a bite. The Synear cartoon, not only the blew up the whole Asian market, but also got mainstreamís attention. Such cute cartoon buns and outstanding package makes this product an excellent sale and stock.

Synear cartoon bun has a good reputation in the market. In the past year, it has been well known as a convenient and delicious household dessert. It can be cooked by steaming, or microwaving by heating for 1 to 2 minutes then it is ready to serve. With Synearís intentions, consumer can enjoy this great dessert with confidence and a smile. Letting the fun begin at each meal. Displaying 6 flavors on the shelf will grab everyoneís attention. Business manager, please do not miss this chance, the cartoon bun is a must have item in your freezer.