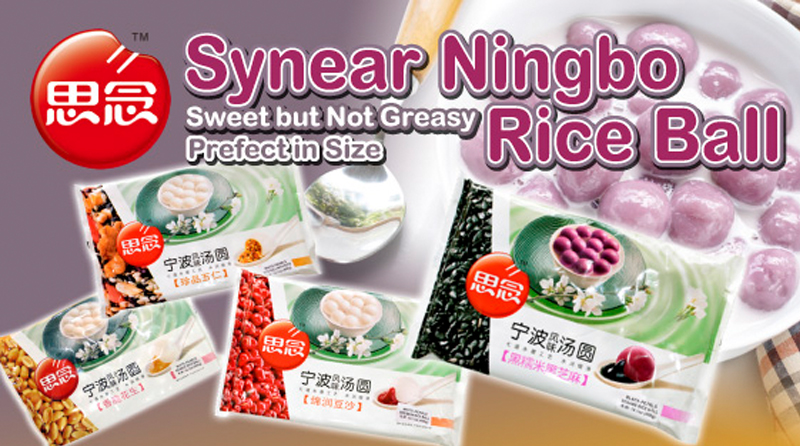 Synear Ningbo Rice Ball,

Sweet but Not Greasy,

Just the Right Size.
As a "Chinese name brand", Synear always makes the best quality as their basic requirement. Basic on principles, while continually refining their product and making their delicacy an inheritance. This time, Synear brings us five new flavors of Ningbo rice ball. There are black-pearls with sesame, white-pearls with red bean, white-pearls with nuts and white-pears with peanut. Synear Ningbo rice ball was made with eight hours of grinding. The rice ball tastes tender and chewy, sweet and delicious, including the elegant package design this product really meets the modern people's life style requirements. Good taste is the basic requirement of any food product. However, providing high quality food with good nutrition and health; that is the goal Synear wants to bring to customers.

Every regions of China has rice balls, among the most famous is in Ningbo. According to research, the rice ball was made in the early Song and Yuan dynasties, 700 years ago. The skin of rice ball was made with rice powder from local premium glutinous rice. The stuffing was made with pure sugar, black sesame and quality oil. Full of fragrant, with its sweet, fresh, slippery and waxy features. Once breaking the skin, the oil fragrant is overflowing, the glutinous skin is tender but not sticky, tasty and delicious. Every Lunar New Year's Day, every family, men and women, old and young from Ningbo all eat Ningbo rice ball for showing joy, reunion and auspicious. The chewy and soft texture with sweet fillings, is warming in the winter. Therefore, it is well known all over the world and has become one of China's top ten characterizes local snacks.

Synear Ningbo rice ball is a small rice ball, fine and smooth stuffing, sweet but not greasy. The small size is just right for the elderly and children, and is an ideal food for whole family. Today, rice ball is not just for the holiday or reunion dinner, it can also be consumed as snack or dessert after meals. Imagine after a great meal, a bowl of warm hot rice ball soup to happily end the meal. Synear rice ball is a selling product at markets, stocking more flavors will increase the chance for sales.