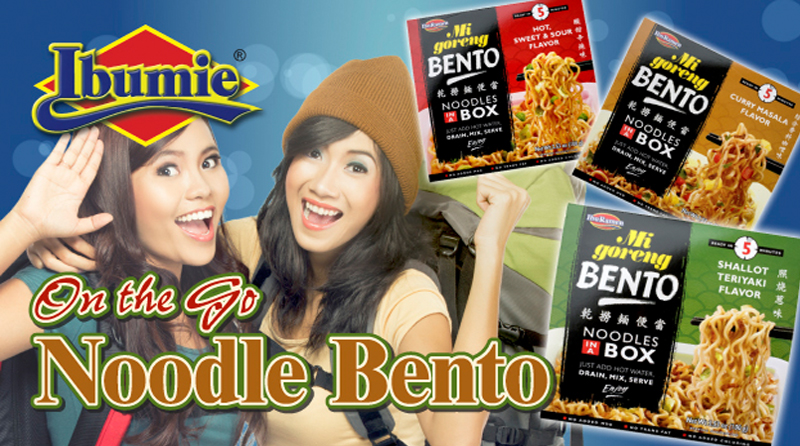 Noodle Bento

On the Go

The company that brought us Ibumie is bringing us another line of delicacy. Bento, a word used to describe Japanese lunch boxes because it is filled with a variety of taste, is now used to define IbuRamen's Mi Goreng Bento because it entails tasteful "Noodles in a Box".

Mi Goreng Bento is made easy to prepare in 2 ways. 1) Adding boiling water to the unwrapped dried noodles, and letting it sit for 5 minutes before draining, add seasoning, mix well and serve. 2) Add room temperature water to the unwrapped dried noodles, microwave for 5 minutes, drain noodles, add seasoning, mix and serve. Convenient with 3 flavors to offer: Shallot Teriyaki, Curry Masala and Hot, Sweet & Sour.

IbuRamen Shallot Teriyaki contains a blend of sweet honey, soy sauce and sake, a favorite of the Japanese, with Shallot added to emphasize the teriyaki flavor. IbuRamen Curry Masala brings the essence of popular Indian curry, with its mix of non-dairy creamer, spices, and fried shallot that pleases the taste buds. IbuRamen Hot, Sweet & Sour uses Lingham's brand chili sauce (a brand in which we also carry) to give the noodles its tangy hot but sweet & sour taste.

If the above mentioned did not entice you enough, then make note that the product has no MSG added, no artificial coloring and no trans-fat. With those added perks, convenience, with 3 flavors to choose from, it would be a great item to have on your shelves!