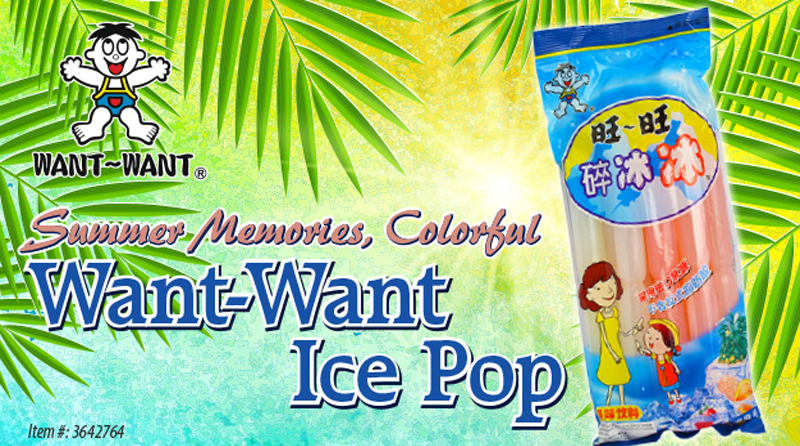 Summer Memories,

Colorful Want-Want Ice Pop
Generations born in the 70ís and 80ís should all remember this kind of ice bar. During the hot summer, children after school all likes to go to the small grocery store near the corner to get their favorite ice bar. That should be many peopleís childhood memories. This kind of ice bar has a few different names like ice stick, fruit bar, ice pop, etc, and it has been deeply imprinted in many peopleís hearts. Once you get the picture in mind your mouth waters. To enjoy the ice bar there are several ways to open it; you can twist the top off and slowly taste the sweetness. While the other way is to break the bar in half, then one bar becomes two bars in which both you and your friend can enjoy. When the top is off or the bar is split open, simply push ice out from the tube. Once the ice is inside your mouth the refreshed feeling instantly cools off the heat.

Want-Want, a consumer food manufacture has been providing the best quality snacks for many generations. It has become a first choice brand for many parents and children. This time Want-Want brings us the ice pop mixed which has been a great selling product in China. Want-Want ice pop mixed contains natural juice and the fruit flavor tastes very rich. A package comes with 4 mixed fruit flavors, different flavors can be enjoyed by more people. The advance ice making technique makes the ice pop taste smoother. Also, the high quality milky material is fat free so people can enjoy more sweetness. To refresh the heat in summer or to soothe the mouth with sweetness after meals makes this product perfect for the whole family and at all times. Please donít miss such a great product, this is the time to fill the colorful Want-Want ice pop in your freezer.