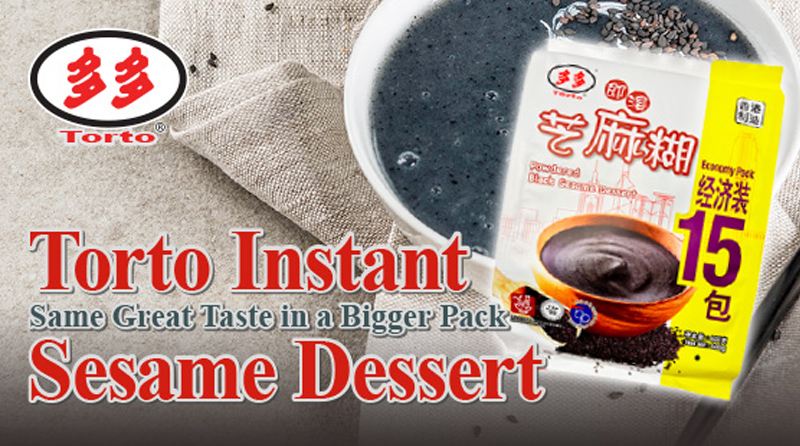 Same Great Taste

in a Bigger Pack

Torto, the esteemed brand of Hong Kong that has been around for more than 20 years whom brought us the Black Sesame instant dessert is bringing us the same great taste in abundance with their Economy Pack of the same flavor. Black Sesame dessert is an instant dessert that is grounded to such fine powder it only requires boiling hot water to prepare, then some stirring and it is ready to serve.

Torto products aims at providing consumers with nutritional value, and authentic taste that comes with their products, by giving your body the vitamins needed from a product so quick and easy to prepare, for this day and ageís on-the-go lifestyle. Black Sesame is known for its source of calcium, it is stated that 1 gram of black sesame seeds contains about 85 milligrams of calcium, which is 1.8 more than milk per serving. Black Sesame is also believed to enhance skin complexion, making it a favorite amongst females, in addition to its benefit of preventing gray hair and nourishing oneís scalp.

Aside from its nutritional benefits, the winter season is perfect for enjoying a bowl of Tortoís Black Sesame Dessert, to complement the cooler weather, a dessert to enjoy while keeping you warm at the same time. Then again, even if warmer weather does approach when it comes to health, there is no specific season for health awareness.